eBay have signed an exclusive multiyear partnership with Argos to offer nationwide fulfilment services to buyers and sellers.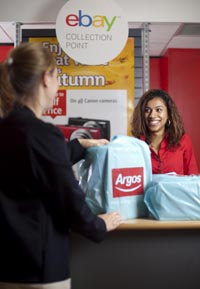 This not only extends eBay's current click and collect arrangement at Argos stores, but will also see the first ever eBay parcel drop off service at Argos for next day home delivery.
Here at Tamebay we've long called for eBay to flex their muscles on behalf of sellers and negotiate some decent discounts on services such as carriage. eBay have listened and this has been part of eBay VP Tanya Lawler's strategic mission since she joined eBay three years ago. Her aim has always been to add value to sellers and the extended Argos partnership is the start of what we envision will be a new raft of services negotiated by eBay.
Tanya explained that there are a couple of dimensions to what they're looking to achieve – Significant leverage and scale for small and medium sized business sellers and maximum convenience for buyers.
eBay Click & Collect at Argos
eBay's Click & Collect launched at scale in Q3 2014 and is now available to 200k business sellers shipping to almost 800 Argos stores around the UK. Buyers have collected 3 million eBay parcels from Argos stores and everything done to date shows the partnership can handle significant volumes and it is scalable.
eBay Drop-Off at Argos
eBay started a drop off trial in 10 stores in the Nottingham, Crawley, Portsmouth and Southampton areas. Primarily designed for consumer sellers and small businesses, it offers a tracked next day or two day service. It's simple straightforward pricing with just three weight bands. Once a seller parcels up their sales they simply drop them off at Argos for shipping.
Pricing for eBay Drop-Off at Argos is £3.80 up to 2kg tracked (24-48 hour delivery), £6.23 up to 5kg tracked 24 hour delivery and £8.22 up to 20kg tracked 24 hour delivery. Whilst you might be able to get better prices for ultra light items or with a courier contract, for small sellers or ad hoc requirements these prices are pretty keen.
We're expecting to see Drop-off at Argos roll out to about 150 stores this year with the intent to roll out across the country next year.
The future for the eBay/Argos Partnership
eBay's partnership with Argos started as Click and Collect and has now expanded to Drop-off and next day tracked delivery. We know that eBay have the clout and desire to negotiate on behalf of their buyers and sellers and that driving footfall to Argos stores is working for them – hence the new multiyear exclusive deal. We also know that Argos is investing heavily in a new same day delivery network.
We have no indication that it could happen, but we can't help thinking that with delivery vehicles sited at every store, perhaps an eBay collection service might appear in the future? We're also looking at the postage costs for the Managed Return process and wondering if Return at Argos will be announced at some point.
eBay's aim is to make fulfilment frictionless for sellers and buyers and at a price point that's highly attractive. Tanya tells us that eBay is confident that they can make a fundamental difference to the fulfilment landscape in the UK and says it's the right thing for buyers and it's the right thing for sellers.