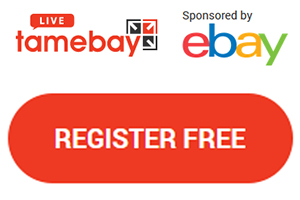 This is a session every brand and retailer should attend – even if you don't want to sell on eBay you can still target the eBay audience through display advertising.
If you've not yet registered for the Tamebay Live week of masterclasses and workshops then register HERE to get free access as you don't want to miss out.
eBay's Harmony Murphy and Sylvie Walker will discuss how the death of the cookie and an even greater focus on brands and sellers has reinvigorated advertising solutions on eBay. From richer targeting solutions and access to more powerful insights to advertising placements reserved solely for sellers, eBay reveals what's coming next!
Presenters

As GM Advertising UK at eBay, Harmony Murphy is responsible for the operation, strategy and revenue of the eBay UK ads department – collaborating with brand and agency partners, and other buyers of eBay's premium inventory to deliver innovative data-led media solutions, and demonstrating the value that eBay brings to brands.
Before joining eBay as Head of UK Advertising Sales in 2020, Harmony was Global Head of Digital & Programmatic at The Telegraph, where she doubled international programmatic revenue over the course of two years.
Harmony is also a board member at Generation Success, a not for profit organisation that helps young, ambitious people from diverse backgrounds to realise their career aspirations through mentoring, coaching and access to industry experts and events.
Sylvie Walker
Sylvie Walker has been at eBay for almost 8 years, and works within the eBay Ads team focusing on the Fashion and Lifestyle verticals. She consult with both agencies and direct brands on advertising opportunities across eBay
She started her career in Digital just over 20 years ago during the dot com boom, working within a startup creative agency for the first 7 years. Subsequently, Sylvie moved across to the media owner side where she worked for Bauer and Microsoft as an account manager. In 2008 she took her first Programmatic advertising role at Autotrader, which led her to eBay where she joined as Programmatic Sales Manager.
Outside of work Sylvie lives in Surrey with her daughter and has a personal interest in interior design as well as being a martial arts black belt.