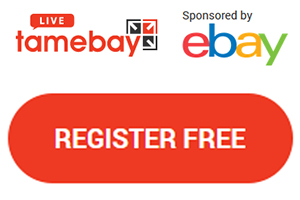 Join eBay at Tamebay Live at 11.05 this morning to learn how to stand out from the crowd with Promoted Listings.
If you've not yet registered for the Tamebay Live week of masterclasses and workshops then register HERE to get free access as you don't want to miss out.
This masterclass will give you an overview on how you can increase your chances of making a sale by getting more views with Promoted Listings, and a deep dive into the latest product release: automated campaigns.
Presenters
Mark Granshaw
Mark Granshaw joined eBay two and a half years ago, following time at both Microsoft and Verizon. With over 16 years industry experience of Digital Marketing and Advertising, Mark has made an impact across agency, publisher and client-side positions for large multinational companies.
Turning his focus to Promoted Listings for eBay UK in March 2020, he became UK Product Marketing Manager for Promoted Listings, managing the GTM strategy and implementation in the UK market. In this role, Mark is responsible for creating, coordinating and executing the UK multi-channel marketing strategy.
Mark moved out to Walton-on-Thames from South London with his wife 6 years ago, where he spends most weekends entertaining their two young children out in the countryside and cycling when he can.
Ellen Mikals
Ellen Mikals joined eBay's 3P advertising team in November 2018 having previously been in a commercial partnerships role responsible for contract negotiations in the EU market. Ellen has been in digital advertising industry for over 8 years, and started her career in the online gaming sector helping US businesses establish their presence in Europe.
As a regular seller on eBay, Ellen was excited to join the promoted listings team when the opportunity arose. Her focus is launching new promoted listings products across Europe and working on product enhancements that will help sellers of any size to grow their eBay business.
Originally from Lithuania, Ellen moved to London to study when she was 20, and has lived here ever since. In her spare time, she enjoys anything craft related, from making handmade cards to refurbishing old furniture.