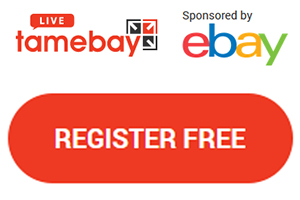 In this 11.05am session at Tamebay Live, we'll look at 'Best Practices for Streamlining your Ecommerce Operations' including three strategies ecommerce businesses can use to scale their order fulfillment operations – in-house fulfillment, 3PL fulfillment, and dropshipping.
If you've not yet registered for the Tamebay Live week of masterclasses and workshops then register HERE to get free access as you don't want to miss out.
Jagath Narayan will cover pros and cons of each order fulfillment type, as well as, deep dive into those options to discuss how building a mixed fulfillment strategy gives you a competitive advantage! Streamlining your fulfillment capabilities mindfully will help you accelerate your sales without getting bogged down by operational headaches. As your sales volume grows, your order fulfillment capabilities need to be able to scale with it. Otherwise, you'll consistently be handling shipping errors, backorders, cancellations, and slow delivery – all of which hurt your brand and stall your growth. So, let's find the right strategy for your business!
Presenter
Jagath Narayan
Jagath and his co-founders set up Ordoro in 2010 to help ecommerce merchants with the backend of their business. Platforms like Shopify and BigCommerce gave them all the tools they needed to promote their business and sell products but stopped there. He saw a need for organized order fulfillment that would improve merchants relationships with their customers and their operations team. Operational efficiency and accuracy allow merchants to reinvest time and money into their business – both being critical to growth!
They bet early that the secret to our success would be the happiness of our customers. This made him want to build a company full of people that are passionate about creating the best possible product for our customers. Ordoro focus on crafting features that simplify merchants operations and give transparency into their business. As of today, most of their growth has been through word of mouth from customers that love Ordoro. Last year their small team helped ship over 12 million orders all over the world!