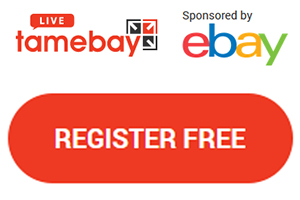 Learn from the Master how Google Campaigns can grow your business with eDesk and Google at 1:30pm this Friday afternoon in Tamebay Live's Google Campaigns Masterclass.
If you've not yet registered for the Tamebay Live week of masterclasses and workshops then register HERE to get free access as you don't want to miss out.
Tamebay and eDesk are super excited to welcome guest speaker Jeroen Rutten, Strategic Partner Manager at Google, who will share his insider knowledge of tips and tricks to get your products in front of ready-to-buy shoppers whether they're at home, on mobile or in the shop. Learn how your business can "Be Found, Be Relevant, Be Efficient and Be Appreciated" with eDesk and Google.
Presenters
Gareth Cummings
Gareth is Chief Technical Officer of eDesk (formerly xSellco) and leads the product development, architecture and engineering function across an extensive suite of award-winning software products, including eDesk, the AI powered helpdesk solution for multichannel ecommerce sellers, and Repricer, the leading repricing tool for Amazon sellers.
Prior to his role at xSellco, Gareth held leadership roles at Brite:Bill, (which was acquired by Amdocs), Sentenial (a next-gen cloud payments provider, processing billions of euro each month across 34 countries) and Globoforce (aka Workhuman, one of the few Irish tech companies to reach unicorn status). Gareth holds multiple qualifications including a B.Sc in Computer Science from Trinity College Dublin, and was awarded the Kenneth Mulkearns Memorial Medal.
Jeroen Rutten
Started out his career at L'Oreal where he set up and managed the ecommerce business for The Netherlands.
For the past 6 years Jeronen has been working at Google in EMEA and APAC working in various product lead roles.
He is now growing product partnerships with ecommerce technology companies in EMEA. Besides his work at Google he is founder of experience analytics company Tablevibe.co.


Odolena Kostova
A digital marketer with over ten years of working experience, last two at Google. Odolena works with Channel Sales partners in Europe, Middle East and Africa helping them apply the best advertising solutions from Google for small businesses and grow their business.
Odolena is a book writer and a YouTuber in her free time. You can check her channel Odolena Kostova.