Today in a very rainy Birmingham, there's a new store open and it's DJI and Hasselbad, the premium tech company that has grown in the UK, largely on TikTok, but are now on the high street.
This is the first DJI store to open outside of Asia, set over two floors with a showroom on the ground floor with the other floor set aside as a studio for Live Streaming, Demonstrations and Product Training.
What makes this store unique is that it's taking premium product that's sold amazingly well on TikTok and brought the experience to the high street. This isn't a typical tech store with pushy sales staff looking to box shift, but rather a physical manifestation of the DJI community that's grown online. Sure, when you enter the showroom, it's got the tech displayed and if you really want to you can walk in, purchase and walk out with a box, but there's so much more going on.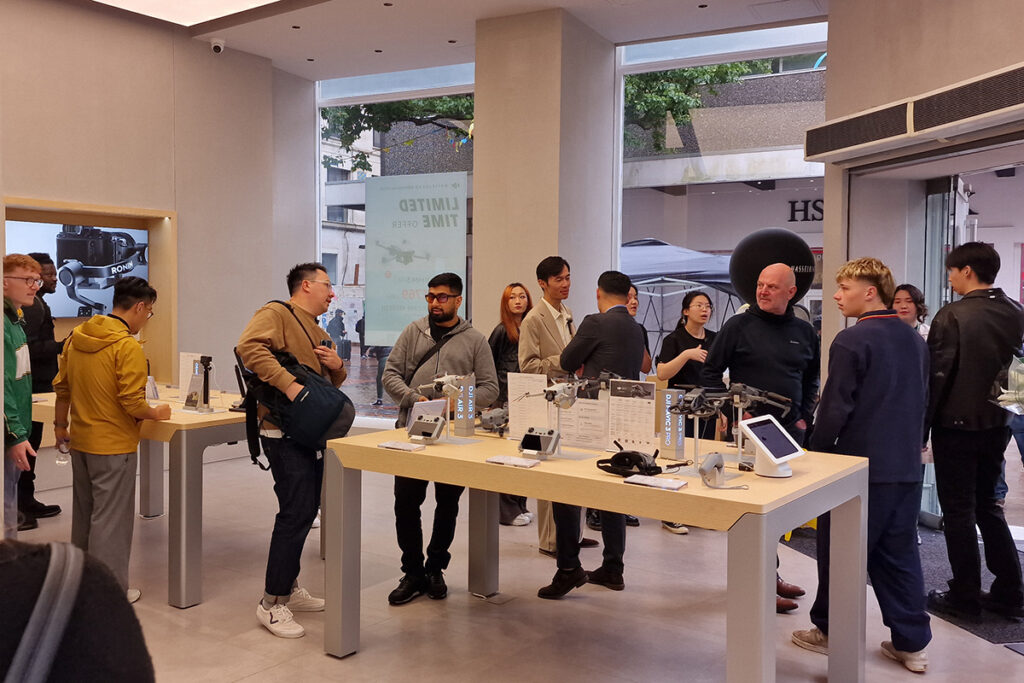 On opening day there were Live Streams on TikTok and in between product demonstrations of the full range of drones that DJI sell (and their drones, camera gimbals and microphones have become famous among the creator industry, offering everything from affordable hobbyist products right up to professional solutions). Staff aren't so much sales staff as enthusiasts that know the products inside out and can guide you to the tech that fits your needs.
One thing that's very obvious, is that this isn't a typical shop, it's hard to emphasis the community feel and it's not really a shopping experience, it's an experiential experience where you'll be immersed in a world of premium high tech and yes it's a fun place to hang out.
However there was one thing no one at the DJI shop was mentioning and that's what does this new type of physical retail shopping experience mean for the old guard on the high street. DJI is just one premium brand but their retail model is direct to the consumer. We've seen a massive shift to D2C in recent years, accelerated by the pandemic, and if premium brands open experiential retail shops where does that leave the electrical retailers and department stores?
The incumbent retailers on the high street have one big advantage and that is that they already have a physical presence. To win in the future, they have the opportunity to rebuild stores along the DJI model and be so compelling that brands will want to work with existing retailers rather than open their own stores.
But the future is not just about stocking and retailing product – there are stores in the UK that stock DJI but they are effectively order takers compared to the experience offered in the DJI store that opened today. Pretty much the only reason you might buy from another retailer is because you have already discovered the product and you can collect it today… but you're unlikely to find too many stores that will demo the full product range and help you choose which model from the range that is best for you. And at the DJI store they'll probably help you unbox the product, install the software, and show you how to use it for the first time!
No matter how premium the offering is, the store still needs to be an extension of the online community, a meeting place where like minded consumers can gather in real life but remain a part of the community through online platforms such as TikTok and social commerce in-between visits.
Watch the video to hear from the DJI team including: