The last month has been busy for social commerce, but the outstanding star has been the revelation of just how much ecommerce takes place on TikTok. Watch out interview with eFones and prepare to be astounded at some of the numbers!
TikTok also introduced text only posts, perhaps to take advantage of the turmoil at twitter, or X as we must now call it. Contrairily, WhatsApp moved from a text platform to introduce video messaging.
With Instagram popping up Paywalls to enable creators to charge to access premium content, and introducing broadcast channels, there's a lot of movement in social commerce, so here's what you can expect in our August update below:
How eFones became 1st UK TikTok Shop Brand
WhatsApp instant video messages launched
TikTok introduces text only posts
Is twitter rebrand barking mad or genius?
Instagram Subscriptions offer PayWall content income to creators
M&S England Womenswear Collection TikTok promotion
Getting to grips with Instagram broadcast channels
Inside the TikTok Shop UK on Oxford Street
How eFones became 1st UK TikTok Shop Brand
When TikTok Shop first launched in the UK in 2021, eFones were a launch partner on the platform. More recently, they also became the first to adopt Fulfilment by TikTok. We sat down with cofounder, Emily Gallant in the eFones warehouse to learn more about the company and how they become a TikTok phenomenon.
Today, eFones work with around 9,000 influencers on TikTok and Emily shares how they manage this vast number of creators promoting their products. And she shares the massive success, such as launching a new mobile device in the UK with around 60k sales in the first half year!
If you want to learn how to work with and manage influencers on TikTok at scale, watch this video for our conversation on:
WhatsApp instant video messages launched
There's a new way to communicate with WhatsApp instant video messages.
WhatsApp has long been loved for sending text messaging, but increasing people have started to use their relatively new voice messaging, where for those too lazy to type they can just hit record and intensely annoy the recipient who then has to listen to find out what's been said instead of scanning a pop up notification and instantly knowing if it's something that demands an instant response. It's great when you're on a train and don't want the whole carriage to know what someone has just sent you.
Now WhatsApp have gone one step further by introducing video messaging…. and they play on mute. This means you'll probably end up watching a muted video and then have to watch again to get any idea of what the person communicating with you wants to say.
And of course I know I'm being dismissive, some people love video and some tolerate voice messaging surprising well, plus of course it brings WhatsApp messaging with video on a par with similar platforms like Telegram who have had the feature for ages.
Some may be reading this and feeling bemused… surely you've been able to send video via WhatsApp for ages? And the answer is yes you have been able to, but by using the embedded feature rather than record on your camera and upload from your image roll, you won't be filling up storage with one-off chats to clutter up your mobile.
The downside is that instant video messages can only be up to 60 seconds long, the upside is that they are protected with end-to-end encryption, ideal I guess for those late night you don't want intercepted. It could be a lot more useful than pillow talk however, for instance communicating just how bad a water leak under the sink is to a plumber or for businesses that want to show you a product feature to encourage you to make a purchase.
Instant video messages have started to roll out on WhatsApp and if you don't have them now they'll arrive in the next few weeks or so. Sending a video message is as simple as sending a voice message. Just tap to switch to video mode, and hold to record the video. You can also swipe up to lock and record the video hands-free.
We think these will be a fun way to share moments with all the emotion that comes from video, whether it's wishing someone a happy birthday, laughing at a joke, or bringing good news.

– Meta
TikTok introduces text only posts
TikTok, the entertainment platform that's all about video, is going old school and introducing text only posts for those times when you don't really need a full multimedia production.
We're thrilled to announce the expansion of text posts on TikTok, a new format for creating text-based content that broadens options for creators to share their ideas and express their creativity. With text posts, we're expanding the boundaries of content creation for everyone on TikTok, giving the written creativity we've seen in comments, captions, and videos a dedicated space to shine.

– TikTok
Creators have always been able to make content on TikTok across a variety of formats – from LIVE videos to photos, Duets to Stitch. Text is the latest addition to options for content creation, allowing creators to share their stories, poems, recipes, and other written content on TikTok – giving creators another way to express themselves and making it even easier to create.
Text posts offer a simple publishing experience that makes it easier than ever to share text content and yes you may be forgiven for considering whether this is a move to mitigate against Meta's new Threads and to take advantage of the turmoil at twitter, where they blue bird logo has been replaced by an X and you no longer tweet but send X's (anyone else think that sending X's on twitter now sounds like you send kisses to the masses?).
When you go to post on TikTok and access the Camera page, you'll be now able to choose from three options: photo, video, and text. By selecting text, you'll be directed to the text creation page, where you can type out the content of your post.
But this is TikTok and no one wants a static text post, so when you reach the Post page, you'll find familiar options to customise your content. These include adding Sound, tagging a location, enabling comments, and allowing Duets, among others. These features make it so your text posts are just as dynamic and interactive as any video or photo post.
Doesn't this sound better than twitter or Threads where text only means text only? TikTok have gone one better and taken a text based world and modernised it for the 21st century. Of course twitter and threads hope that they'll be the place you go to get news and it's a bit more dull and straightforward, whereas TikTok want you to discover amazingly compelling content that you'll love, will inspire you and brighten up your life. While the news can be delivered in 500 character soundbites, TikTok want you to have an experience, not just a factoid.
TikTok text only post features
Text posts offer a range of features that empower you to make your text-based content stand out. Here are some highlights:
Stickers: Enhance your text by selecting stickers that relate to your content and add some pizazz to your post.
Tags and Hashtags: Just like in video or photo posts, you can tag other accounts, as well as add hashtags that relate to relevant topics or trends.
Background colors: Choose from a variety ofbackground colors to make your text pop.
Adding Sound: Sounds are core to the TikTok experience, which is why we've incorporated them into text posts. You'll be able to add tunes that readers can groove to as they peruse your writing.
Draft and Discard: Similar to video or photo posts, you can save your drafts and store them with other unpublished posts for later editing or discard them entirely.
Is twitter rebrand barking mad or genius?
There's been a fair amount of gobsmacked surprise at Elon Musk renaming twitter to X and tweets to Xs, and many in the branding world think he's gone barking mad at taking a well established brand and trashing it, but is that the case?
To decide between barking mad and insane genius, it's worth going back in time to the 1990s when Elon first made his money in a banking business, eventually rolled into PayPal. Elon's original vision was a service with current accounts, savings accounts, brokerage, and insurance as one of the first online banking services. With his partners, that bank was X.com and when merged with Confinity the joint businesses were renamed and became PayPal.
For many years that's where X.com paused, with the URL redirecting to PayPal and then PayPal being acquired by eBay and Elon stepped away, going on to play with rocket ships and electric cards.
PayPal grew under eBay ownership, and the next time X.com reappeared was a short-lived attempt by eBay, in 2011, to create X-Commerce, described as a fabric that would connect all of ecommerce. The idea was that open-source developers could add functionality and tailor the software for a retailers specific requirements, enabling them to add in every business process and flow required to integrate into existing back end accounts and inventory management solutions.
The main thrust of X-Commerce was that developers would connect services to the X.com fabric rather than endless plugins and APIs and if everyone adopted this new ecommerce backbone everything would interoperate without needing multiple interfaces to discrete solutions. This failed pretty quickly once it become obvious that Amazon wasn't going to play ball and X.com once again redirected to PayPal.
PayPal was eventually spun off from eBay but that's another story.
Over a decade later and Elon Musk steps back into the picture, having reluctantly purchased twitter, slashing staff and upsetting just about everyone in the process. Somehow Elon has reacquired the X.com URL and it's now redirecting to twitter… or X as I guess we should now call it.
So, apart from some long lost love for X.com which became PayPal and made Elon's first fortune, the name and URL has some history and that fits with the vision Elon has for twitter. Plus Elon has this thing for the letter X, he originally named his son X Æ A-12 until he had to change it to comply with the law, his rocket company is SpaceX and of course there's a Tesla model X!
Elon's plans are to take twitter from a messaging service to a global marketplace for ideas, goods, services, and opportunities. He's looking to Chinese services such as WeChat where messaging, shopping and banking are all tied together in a single app and wondering why there's nothing like this in the West. Remember back to the beginning, he already has form for playing in the internet banking world and nothing would close the loop on his career quite as nicely as X.com once again having a banking arm.
Barking mad or genius, everyone will have their own opinion on changing such a recognisable brand as twitter… but if Elon pulls it off and X becomes a global marketplace, history will judge this as the moment the internet changed.
Instagram Subscriptions offer PayWall content income to creators
Instagram subscriptions being made available to more creators around the world. Eligible creators in Australia, Brazil, Canada, France, Germany, Italy, Japan, Mexico, Spain and the United Kingdom will be able access to Subscriptions and start earning through support from their fans. The plan is to continue rolling out access globally in the coming months.
Instagram subscriptions are effectively a paywall to your best content, so this isn't suitable if you're just plugging a product. Where subscriptions will come into their own is if your brand has a strong 'How to' set of content that adds value to subscribers, perhaps coupled with giveaways, exclusive discounts, and early access to sales.
With Instagram subscriptions, creators can develop deeper connections with their most engaged followers and grow their recurring monthly income by giving subscribers access to exclusive content and benefits, all within the same platform where they interact with them already.
Sharing exclusive content with subscribers across multiple formats helps build community with your subscribers in different ways. The Instagram Subscriptions Creator Playbook provides tips and best practices including how to turn on offers to help you grow and keep subscribers.
You can set a monthly price of your choice, unlock a "subscribe" button on your profile and offer the following benefits to your subscribers:
Subscriber Posts, Stories, Reels, and Lives: You can create reels, posts, and stories just for your subscribers. Share exclusive content, use interactive story stickers or even go live with your paying subscribers only.
Subscriber Highlights: Your newest exclusive stories will automatically be saved to a highlight that is only visible to subscribers so they never miss a story.
Subscriber Broadcast and Social Channels: You can give your subscribers special access or information in subscriber-only channels.
Subscriber Badges: You will see a subscriber badge next to comments and messages your subscribers send so you can easily identify and prioritize interacting with them.
In the US where Subscriptions first launched, the price range is $0.99, $1.99, $2.99, $4.99, $9.99, $19.99, $49.99 and $99.99. The price point you set it likely to very much depend on the value you can offer your subscribers. Most important of all will be to produce exclusive content on a regular basis that justifies your subscribers' paying and continuing to subscribe.
If eligible, you'll be able to set up Instagram Subscriptions from your Professional dashboard settings where you'll find the Subscriptions options.
M&S England Womenswear Collection TikTok promotion
Marks and Spencer are now the Official Tailor of the England Senior Women's Team. The partnership builds upon the retailer's longstanding relationship with The Football Association, dating back to 2007 when M&S became the Official Suit Supplier to the England Senior Men's Team.
The Womenswear collection sees an in-house designed range of versatile, re-imagined tailoring pieces, that will be worn by the England women's team in the tournament and in their official England team shot. The collection allows M&S to hero the sport itself as well as what the players and the concept of women's football stands for and is a celebration of individuality, made to be effortlessly mixed and matched for work, play and everything in between.
We're incredibly excited and honoured to be dressing the talented and inspiring England Women's Team on their journey to this year's most talked about tournament. We wanted to ensure the collection delivered on style and versatility, creating timeless pieces with individual styling was at the forefront of our minds and something that I believe underpins the whole collection. The styling options – dressing the pieces up or down – are endless!

– Maddy Evans, Director of Womenswear, M&S
The supporting marketing campaign has launched online and in selected stores, featuring England players Alex Greenwood, Lucy Bronze and Jessica Carter seen wearing a selection of pieces from the collection. The launch will be supported by an omnichannel marketing campaign across stores, PR, media, digital and social channels.
Where this becomes interesting is a paid promotion with TikTok stars the SugarCoatedSisters. Sporting a selection of satin shirts and sporty ribbed knitted tops from the collection, paired with slouchy wide-leg trousers, cut to give a flowing silhouette, they show off the clothes with style.
Starting off playing football, they quickly switch to their unique, inimitable style of musical comedy as they burst into song to reveal that their outfits are from the England women's team Womenswear collection from M&S.
This is a great example of when retail and social promotion really comes into it's own. The Lionesses are lauded for their values both on and off the pitch, with all the work they've put in to ensure girls at school are given the opportunity to get into football at a young age, whilst the SugarCoatedSisters are two women who have forged their own path to a successful career and are amazing, if unconventional, role models. It's a perfect pairing, and highly likely that a huge number of the comedy duo's following could perhaps go shopping at M&S to grab some Lioness fashion this summer.
Getting to grips with Instagram broadcast channels
In June, Instagram broadcast channels were rolled out globally, giving creators a new way to connect with their audiences. Instagram broadcast channels are essentially a one-to-many messaging system with the ability to include previews of upcoming content, asking for feedback via polls and sharing moments with voice updates.
First up however, a word of warning, you can't access Instagram broadcast channels on a desktop, they're only available via the app so this is going to have a seriously limiting impact on brands and retailers. It really is a tool for individual creators rather than corporate PR and marketing departments. It's a chance for those that represent the visible face of your business to talk directly to your customers… and that's both a huge advantage and a scary proposition for those in charge of crafting corporate messaging!
It's also worth noting that this is a new channel and so your first broadcast needs to be engaging and set out to your audience who you are and why they want to subscribe to your broadcast channel. When you create a channel, all your current Instagram followers will be notified and will get fresh notifications each time you broadcast a new message.
Creators should use broadcast channels as a casual, quick way to keep followers up-to-date. You can use text, photo, video and voice notes to share their latest updates and behind-the-scenes moments and even create polls to crowdsource fan feedback. Only creators can send messages, while followers can react to content and vote in polls.
In the coming months, Instagram will be adding more features, such as the ability to bring another creator into the channel to discuss upcoming collabs, collect questions for an AMA via question prompts, and more.
Getting started couldn't be easier, simply open the Instagram app, go to your direct message inbox, tap to write a new message and you should see the option to create a broadcast channel.
If you are ready to unleash snippets from your day to your audience, whether you're a fashion retailer sharing snapshots of your latest shoot, or the arrival of new stock in the warehouse ready to list, Instagram Broadcast channels are an interesting development… but one you want to put thought behind to make sure it both works for your business and maintains your corporate identity.
Inside the TikTok Shop UK on Oxford Street
If you've been on Oxford Street this week, you may have wondered what's going on in a mysterious shop that's closed to the public, but enticingly branded as the TikTok Shop UK. There's a steady stream of people coming and going, but it's invite only, so what's going on and what are the favoured people that get to enter doing? And why are the sales assistants behind the counter being filmed doing product demos to customers that aren't allowed in?
Last night I entered the doors and can reveal that it's the first pop up TikTok Shop UK to showcase the breadth of brands and creators selling on the platform in a real world context. It's open to existing and prospective TikTok merchants and creators with a particular focus on tech, home & living and books.
And all those mysterious demos at the counter…. well they're not really sales assistants, they are TikTok merchants and creators who are hosting LIVE streams from the venue. They are selling, but you'll have to log on to their TikTok LIVE to make a purchase – Previous studies show that 50% of TikTok users have bought something after watching a TikTok LIVE, and TikTok users are 1.7x more likely to watch branded LIVES to buy products than non-users.
TikTok is the home to a new kind of shopping culture : 'community commerce', a unique blend of community, entertainment and shopping. Hashtags like #TikTokMadeMeBuyIt have reached over 60 billion views, making TikTok a destination for people to discover the biggest trending products across beauty, fashion, food, tech and more.
TikTok Shop is a key element of TikTok's commerce offering and enables brands and merchants of all sizes, no matter their size, to be discovered and sell their products to the TikTok community without having to leave the platform. Through this pop up shop, merchants and creators will have the opportunity to meet TikTok experts to learn all about the power of social selling and how businesses can tap into the online community and trends like #BookTok and #TechTok.
The TikTok Shop UK on Oxford Street is also being used by brands and creators to meet in person and hopefully go on to work together. Spotted online was a Sunday morning event where TikTok brand eFones invited prospective creators to meet and discover what selling their products had to offer, both from a commission perspective and what content creators could gain for their channels.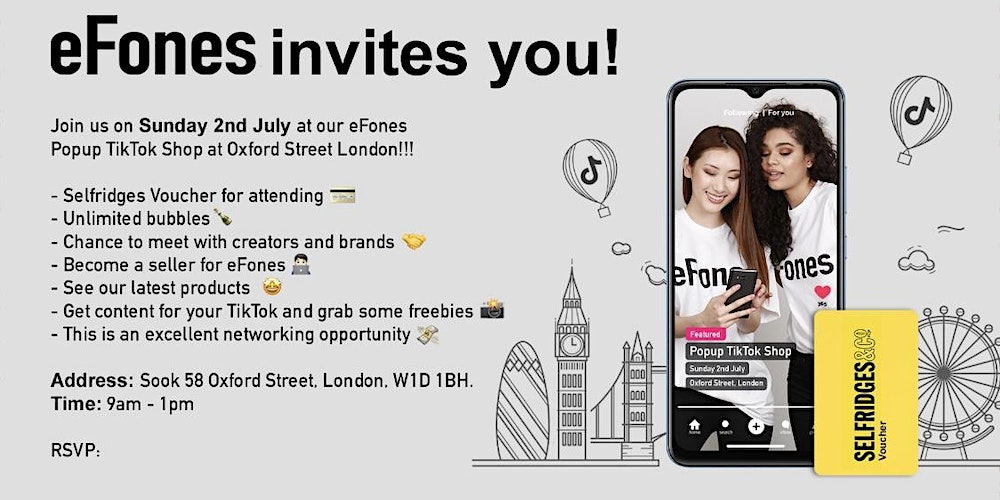 During the week, a whole range of home & living, electronics and book brands and creators have been attending the TikTok Shop UK pop up and sharing how they tap into the TikTok community to sell on the platform. This includes kitchen appliances brand Sage Studios (@Sage), hair tech brand Cloud Nine (@cloudninehair), drone business DJI (@DJI_uk), and publisher Harper Collins (@harpercollinsuk). The pop up will also feature LIVEs from creators including Luke 'Lopwert' (@lopwert) and food creator Lagom Chef (@lagomchef).
TikTok's community has created a brand new era of social commerce opportunities, where a single piece of content can quickly go viral and create both demand and opportunity. We've seen merchants and creators transform their businesses and their lives in a way that would be impossible on any other platform.

Our community can now discover and buy everything from a new coffee machine to the latest drone, or their favourite #BookTok best seller, all without leaving the platform. Through this exciting pop up shop on the iconic Oxford Street, we hope to shine a light on the opportunities available for merchants and creators to be discovered and thrive on the platform.

– Patrick Nommensen, GM of eCommerce, TikTok