It all starts out so innocently. You see a great product that's selling well. You find a supplier that'll make a similar product for you to sell on eBay and sell it does and the money starts rolling in. Then one day you get a cease and desist notice informing you that not only are you infringing someone else's intellectual property but they're suing you as well.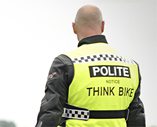 That's what happened to an Oldham woman who started selling a range similar to the "POLITE" high vis clothing supplied by UK company Equisafety.
The County Court made an award in Equisafety's favour, but when the funds didn't arrive they had no hesitation in sending in the bailiffs to collect the debt.
The MD of Equisafety told the Oldham Chronicle "We seem to be getting a lot of people copying us – she was one of them. It damages our reputation".
Lesson learnt, if you're thinking of selling a product 'inspired' by a product you've seen elsewhere, make sure that you're not infringing their trademark or if could be you being chased by the bailiffs.