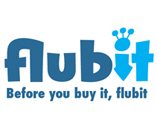 Back in September, we covered the launch of new online marketplace flubit.
flubit is a marketplace with no product or price listings. Customers provide the name of the product they want, the website with the best price they could find, and their email address. A short while later, flubit creates a unique offer for them on that exact product on behalf of a merchant.
As noted at the time, like every new business they faced an uphill struggle to cut through to consumers – online commerce is a busy and cut-throat place for new entrants to win traction.
Six weeks in, and it looks like the early days have been a success: users have made over 10,000 demands, with flubit returning over £1.3 million worth of its bespoke, one-time offers. A strong social media campaign, backed by a well-executed and resourced marketing campaign and boosted by some PR wins helped drive a very quick uptake.
flubit CEO Bertie Stephens says one early surprise has been how strong repeat business has been. "Our repeat customer rate has been above 20 per cent since the first week," he says. "That's really helped drive sales. The other great news is we haven't had to sell the farm to keep our customers coming back. Our typical discount is 7-8% lower than the price our user found, so these really are sustainable, incremental sales wins."
A recent example of how it works is a flubit user who found a Kenwood Chef Food Mixer on Amazon for £425.99. flubit made an offer to that user of £373.93, to be fulfilled by an integrated merchant. The user saved 12%, the merchant won an order that would otherwise have gone to a competitor. Bearing in mind that you'd pay higher fees to sell on marketplaces, flubit isn't a bad deal for merchants.
Many of the very early demands were handled by flubit's in-house merchant, Fireworks Ltd, through their reverse-engineered affiliate scheme. More recently, many more sales have been channeled directly through flubit's merchants as integrations have completed.
flubit's head of merchant relations, Andy Stephen, says expanding the range of integrated merchants remains key to their success. "We're about to finish an integration project with ChannelGrabber, which will let all 850 of their customers to spread their stock to flubit free of charge," says Andy. "And we've got plenty more integrations on the horizon, too. I think online merchants really see the benefits of selling through a private marketplace that has no fixed channel fees."
If you would like to offer your inventory on flubit then register your interest at weflubit whilst registration is free!